PRODUCT MENU
-
WCCO Belting
-
Presswheels
-
Kverneland Hay Spikes
-
Delmhorst Mosture Meters
-
Roller Chains, Leaf
Chains & Baler Chains
-
Sprockets, Platewheels, Taper lock & Reverse Taper
-
Bearings, Housings & Seals
-
Pulleys & Belts
-
Gerni Pressure Cleaners
-
Davey Pumps
-
Dolmar Chainsaws
-
Dunlite Generators
-
Jetstream
-
Tools Hand & Air Operated
-
Agparts Motors & Pumps
-
Fire Equipment
-
Onga
-
Murray Mowers
-
Tractor Parts & Accessories
-
PTO Driveshafts, Clutches, Universal Joints & Componants
-
Harvest Belting & Hay Equipment
-
Air Seeder Hoses, Secondary Heads & Components
-
Ground Engaging Tools
-
Batteries, Car, Truck, Tractor & Industrial
-
Britax Equipment
-
Donaldson Filtration
-
Hydraulic, Hoses, Fittings & Rams
-
Transport Chain & Load Binders
-
Fuel Pumps, Meters & Grease Guns
-
Engines & Generators
-
Safety Equipment
-
Welding Equipment
-
Clutches
-
Consumables
-
Specials
XF Transfer Pump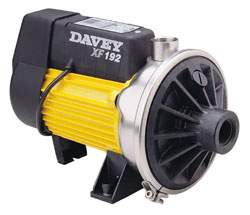 Robust and compact, 1 or 2 stage centrifugal pumps with silicon carbide seals, corrosion resistant componentry and driven by a TEFC motor. Designed for total head duties to 33 m and flows to 225 lpm. All models are fitted with 'Thermotection' for closed head pump protection.
Davey manufactured TEFC motor is corrosion resistant and excludes dust and dirt.
Closed vane impellers with full length 'D' drive for positive robust impeller drive.
Motor and pump are designed for frequent starts providing a long and reliable working life.
Pump shaft and casing (on twin impeller models) are manufactured from quality corrosion resistant stainless steel.
Every pump is performance and pressure tested in our factory to ensure quality and reliability.
Thermotection will automatically stop the pump should the water in the casing reach 85 degrees celsius and restart when the water has cooled to below 65 degrees.
XF transfer pumps are ideal for pumping slightly agressive, non-volatile liquids without fibres or solids in such applications as:
Sea water
Aquaculture
Mild acid solutions
Washing systems
Hydroponics
Deslainated water