PRODUCT MENU
-
WCCO Belting
-
Presswheels
-
Kverneland Hay Spikes
-
Delmhorst Mosture Meters
-
Roller Chains, Leaf
Chains & Baler Chains
-
Sprockets, Platewheels, Taper lock & Reverse Taper
-
Bearings, Housings & Seals
-
Pulleys & Belts
-
Gerni Pressure Cleaners
-
Davey Pumps
-
Dolmar Chainsaws
-
Dunlite Generators
-
Jetstream
-
Tools Hand & Air Operated
-
Agparts Motors & Pumps
-
Fire Equipment
-
Onga
-
Murray Mowers
-
Tractor Parts & Accessories
-
PTO Driveshafts, Clutches, Universal Joints & Componants
-
Harvest Belting & Hay Equipment
-
Air Seeder Hoses, Secondary Heads & Components
-
Ground Engaging Tools
-
Batteries, Car, Truck, Tractor & Industrial
-
Britax Equipment
-
Donaldson Filtration
-
Hydraulic, Hoses, Fittings & Rams
-
Transport Chain & Load Binders
-
Fuel Pumps, Meters & Grease Guns
-
Engines & Generators
-
Safety Equipment
-
Welding Equipment
-
Clutches
-
Consumables
-
Specials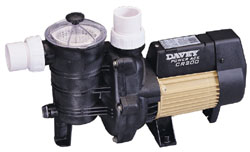 The new Davey Power Ace® CR range of pool pumps gives you strong pumping performance and quiet operation in a compact, convenient to install package.
Constructed of strong corrosion and UV resistant materials for a long and reliable working life.
Powerful pumping performance delivers optimum flow rates for rapid water turnover.
Computer designed impeller and diffuser allows a free flow of water for whisper-quiet efficient performance.
Built-in check valve reduces reverse flow of water through pump to protect pump internals.
Easy to remove, see through strainer lid for easy removal of leaves.


Power Ace® CR pool pumps are ideal for:
Domestic swimming pools
Solar heating
Water features
Aquaculture